Wednesday, August 8, 2012
Hello again! I was a guest blogger over at Bri's spot online, Tiny Texan.
Check it out
!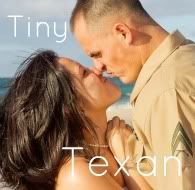 Posted by

Kristina R
at 3:05 PM
No comments:

As I have ranted previously I am redecorating the house. I would have to say that I am not the most knowledgeable about home decor, but I have been looking at a lot of websites and doing my research and it has paid off... at least I think so. With painting and changing the flooring being out I have taken to finding ways to update the rooms with as little impact to the actual house structure as possible. While scouring the internet I found a website that has free plans for furniture to build. I am not the handiest person with a hammer although I do say I am very crafty when I want to be :)! With that being said I persuaded the hubby to undertake this project with me. A new headboard for the guest room. All in all the project was great and lots of fun for me! (seeing as though Jon did most of the heavy lifting) It's all done and I love it. Now I just have to work on layering on the accessories.... Which is kind of hard because this room doubles as my office. I'll figure it out one of these days. But seriously this was not a hard plan to follow at all. We had the lovely person at Lowe's cut all our boards so it was basically just and assembly project. And the best part it only cost around $90. Yay for saving money! You can find the project
here.
These are pictures of the hubby hard at work. He really was concentrating the whole time...
We actually stained the headboard with a dark walnut stain and used a satin polyurethane because we didn't want it to be shiny. From the before to after I think it looks awesome!
Before with the twin size bed
After with a full size frame



You see you really can change a room on a budget with just a little hard work and lots of planning. I look forward to attempting some other furniture pieces although I have found some great consignment and thrift stores down here with some awesome finds. So I might not have to...
Posted by

Kristina R
at 11:30 AM
8 comments:

Sunday, August 5, 2012
We have really settled in and are starting to make this house our home. I have started to watch entirely too much HGTV and have been scouring blogs looking for design inspiration. You want to know what I have learned? Not much! It seems the home design world has forgotten about us renters. How frustrating is it to fall in love with an idea only to be limited by the constraints of your rental agreement. Even though you would love those wood floors there is no way your property manager will allow you rip up the carpet. Oh and that beautiful shade of gray that would look great in your guest bedroom would require approval and for you to purchase an extra gallon of the owners color so that when you vacate said property you can paint it back to that dreary neutral shade that is stock in new builds. I have been looking for ways to spruce up and "design" our house but I'm not going to lie its not easy being the red headed step child of the design world. So without much motivation or inspiration I press on in hopes of uncovering some design ideas that I can incorporate into my "temporarily borrowed" abode. As I finish a room I will pass on the advice. I know many people have got to be in my situation right?
Posted by

Kristina R
at 7:38 PM
1 comment:

Wednesday, August 1, 2012
Hello all! I really do apologize for not updating my Tuesday Suppers in what seems like forever. I really have no excuse other than I have been a very uninspired blogger as of late, but with a little push from my ever encouraging husband I am back on track. Although I haven't posted a supper in a while it doesn't mean that I lack for inspiration in the kitchen. Being in my own kitchen adds some inspiration in itself. It's nice to be the one to decide what's for dinner and actually have control over all the ingredients in your kitchen. Although living with my mom while Jon was away was awesome I am enjoying being able to create in my new kitchen. So this week is a meal i actually cooked a few weeks ago that got rave reviews from both Jon and Landon... which is actually really hard to do. Oh and it wasn't even the least bit hard. Here's how I did it...
Smothered Chicken and Roasted Parsley Lemon Potatoes
Serves 4
12 chicken breast tenders
2 medium yellow peppers, sliced in strips, about 1/4" thick
2 medium red onions, sliced in strips, about 1/4" thick
1 package of sliced baby bellas (you can find the carton in the produce section)
5 cloves garlic, minced
2 1/2 lbs of baby yukon gold potatoes, halved
2 lemons, zested
3 tbsp parsley, chopped
2 tbsp butter
2 tbsp flour
1 cup chicken stock
salt
pepper
1 tbsp garlic powder
2 tsp paprika
olive oil
Preheat oven to 400F.
Dry off the potatoes and place on cookie sheet. Add 2 tsp of olive oil, salt and pepper and toss to coat. Place in oven for 10 minutes.
Pat chicken breast tenders dry. Heat 2 tbsp of olive oil over medium heat in large skillet. Season both sides of the chicken breast tenders with salt, pepper, garlic powder, and paprika. Cook in pan turning after 5 minutes on each side until cooked through. Remove from pan and set aside.
Flip and toss the potatoes in the oven to make sure the brown evenly on each side. Place back in oven for 5 minutes.
Add 1 more tbsp to the same pan you cooked the chicken in and saute the peppers, onions and mushrooms. Once soft season with salt, pepper and 2 cloves of the minced garlic. Saute for another 1 to 2 minutes, be sure not to burn the garlic. Remove from pan.
Add the remaining mined garlic to the potatoes in the oven and toss, replace in oven and roast for 5 minutes then remove. Toss with lemon zest and parsley.
In the chicken pan add the butter and garlic, cook the roux mixture until light brown about 1-2 minutes. With a whisk slowly add the chicken broth, bring to a boil and simmer until thickened. Season with salt and pepper to taste.
To serve place 3 chicken breast tenders per plate, top with sauteed onions, pepper and mushrooms, then top all with gravy. Serve alongside the potatoes.
I hope you all enjoy it as much as we did!
Posted by

Kristina R
at 10:49 AM
No comments: